Yippie… I came in late on monday. Haha… yeah. Of course my boss knows about it. I send him a sms the night before saying I will be late. Haha… guess what.. he remember it was my birthday on sunday and asked me to take my time coming in office the next day. I was not only happy but super happy~ Haha…. went breakie with sis and all then head of work. 
Ooo.. to my surprise.. hehe I was treated to dine in at still waters. Okay… actually I have options. Damn good options. Option 1: The place I choose kenot be more than 5 minits walking distance. Option 2: Somewhere nearby office.. the nearer the better. Hahaha…
So I was left with the option Tai Thong, still waters or maya brasseire. Well.. I was lazy to walk too.. so Tai Thong is "OUT". maya… hemmm eaten there for many many times.. so "OUT" too… so ya ya still waters. Haha… morever it's japanese food.. yum yum.. I love japanese food.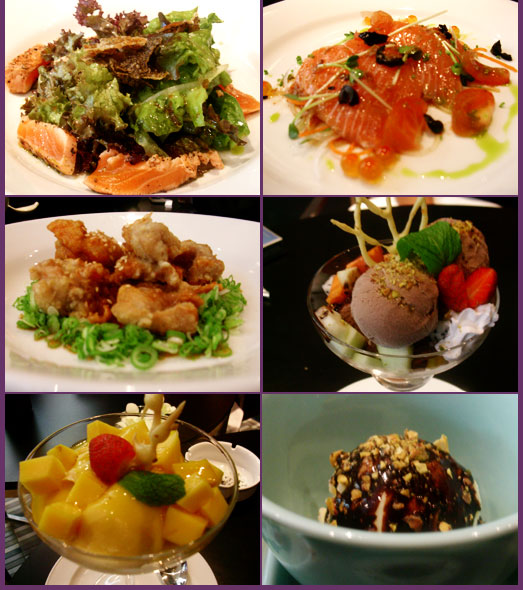 Okay lar… I like to eat lar.. but then I din eat all the stuff there. Haha… I just eat the dynomite roll. Yumm yumm.. it's so yummy. I know I eat rather less that day. You forgot I eat breakie dy meh? Hahaha… okay according to the menu, the dynamite roll consist of tempura prawn, cream cheese, cucumber, ebiko, unagi and some other stuff. However I did not tasted or seen anything which is similar to unagi. I think they change and replace it with a soft shell crab.
Okay.. what the others have? They all have the a 2 meal set with dessert. Yumm yumm.. haha looks nice ar. I wanted to have it.. but too full ar. Next time I will eat it all. Yummm….