After the long postponement for our Korean BBQ arrangement, which dated back to years ago… we finally did it. Evan is back in town for a short break, and it's definately PAY BACK time Evan! LOL~
After checking online, we finally decided on DAORAE, the Korean BBQ Restaurant which has quite and amount of franchise. We actually opt for the Sri Hartamas shop since it's easier to find parking and the nearest to us. LOL… not forgetting, it's situated above a Korean Mart, where we can do a little "Anyonghaseyo" shopping~ Yeay~
As how I normally enter a Korean restaurant, I'm quickly overwhelmed with the amount of side dishes (Banchan) served. Yeay!! We scored a 9 cheop! Now, normally the more amount of Banchan served… it's suppose to mean a more luxurious or high class the dining is. Normally ranges from 3, 5, 7, 9 and even 12 cheop, with 12 cheop being the highest number on scale and normally served in Korean Royal Cuisine.
Check out more variety and details of Banchan.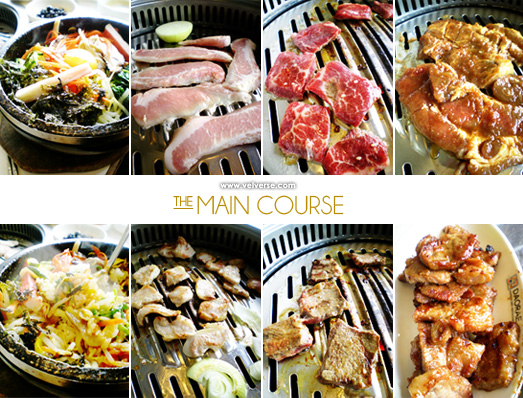 Wow… MEAT!!! Yup, Korean dish is never complete without the BBQ meat and Bibim-bap. And we seriously ordered loads of meat, two porky pork dish… Hangjung sal and Maeun Dweji Gal-bi and a plate of yummy beef… Gal-bi-sal. Oooo… they all taste seriously good. I mean really, what can go wrong with BBQ meat. If the meat is cook to perfection, it'll taste extremely good even with just light seasoning or even without seasoning it.
And being a Chinese, rice is essential 🙂 and in a Korean restaurant, a Doisot Bibim-bab is the best mixture of both… the korean culture and rice… oh and I nearly forget, veges and mushroom!!! I like totally~
More variety and details of Korean BBQ  meat here.
And we're not done yet. We are accompanied by Kimchi jeon as well as Kimchi jeon-gol. The Kimchi jeon (Kimchi pancake) is simply awesome. Wooo, generoud amount of Kimchi and definately hot hot hot. But the moment the Kimchi jeon-gol (Kimchi hotpot) arrived at our table, all eyes are on it. It tasted awesome and not as hot as the colour may potray… and wow… it comes with Korean noodles! Now we basically completed everything, banchan… bbq meat… kimchi… bibim-bab… noodles… soup 😀 *ahhh* I can finally rub my tummy.
And what completes the meal and meet up would definately be a good chit chat over coffee. Yeay!!! Thanks Evan, for the awesome lunch and get together.
Address:
Daorae Korean BBQ Restaurant
9 Jalan 23/70 A, Sri Hartamas,
50480 Kuala Lumpur
Telephone: 03. 6203 2616