Backdated post. Actual event took place on 10 January 2006. 
It was a fun day… right when everything is done and over with, there is this full and fun day. Yeah.. excitement. Go out from morning till the next day morning. Woohooo… I just love to hang out with people. Hehe.. ya ya… snap snap snap pics! I guess it is one of my hobby now. No wait.. I should say being snapped lar!
Woke up damn early in the morning and waited for Loh to pick me up and head to Sunway Pyramid. Hehe… wooo hooo… karaoke! My favourite! Well, this time we went with a few people. Hemm.. so sad.. we can only sing for like 3 hours.
We book for "noon K", and eventually it's a holiday thus many people went karaoke. Sigh! I want to sing more! I want to hold the microphone and not let it go! HELP~~~ I am sick!
Yeay… second round! I went back to office to settle some stuff and then walk over to KLCC. Yeay~ I am suppose to watch Moonlight in Tokyo with brian and gigi. Hehe… supposed to have seen it yesterday but Brian is still in Phuket so postponed to today. Well, we went for dinner at Little Penang Cafe at the top floor. Lepak a little~ Hehe… guess what! I got pressie from brian! hehehe… what is it? *curious leh?*
Woo… I din mention when I was in office, Jon message me and say he wants some "CHI KIK (excitment)" haha and suggested we all drive up to genting at 9pm. I was like
, that you called "chi kik"? I then suggested we go around 11pm. Hahaha.. since our movie ended around that time and guess what, he's up for the challange. *poor brian, just touch down from phuket around 4++ then fly over to klcc around 6++ then heading up to genting 11++* Everyone was super excited. Yeah… I guess this is the first time I ever went up to genting with Jon and Brian. *oh… so chi kik*
We went up and headed to coffee bean. Yeah, as you noticed, they tries to freeze me till death as it was a last minute plan and I din bring any jacket! Worst part, they decided to go Coffee Bean. Lucky we sat inside. The wind was super strong that night. I would be a walking ice-mandy if I was seating outside.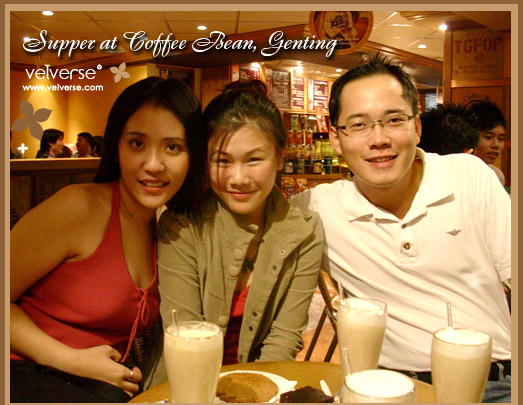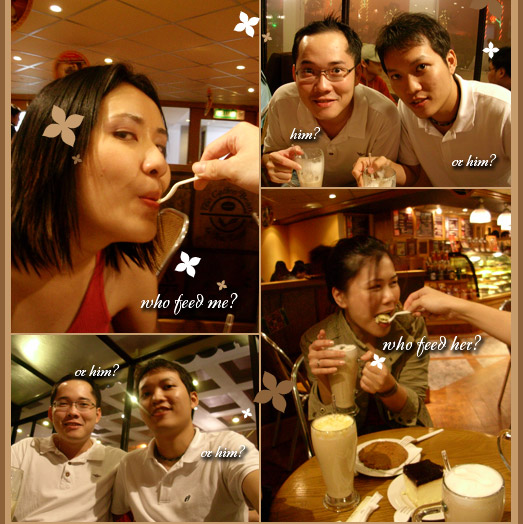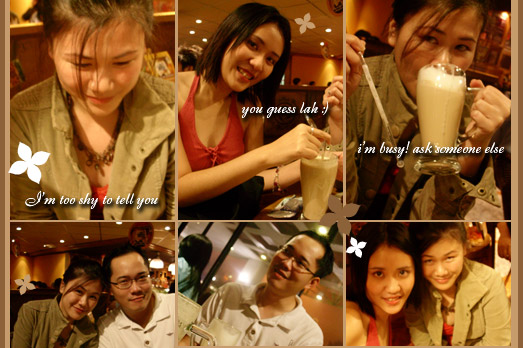 Hahaha… well.. the night in genting ended around 3am. We then decided to lepak nearby my house to warm ourselves~ Wah… and guess what, it's a working day tomorrow and I gotta wake up at 7am which means *panda on the loose* tomorrow.
But then again~ I enjoy hanging out! Let's do it all over again!