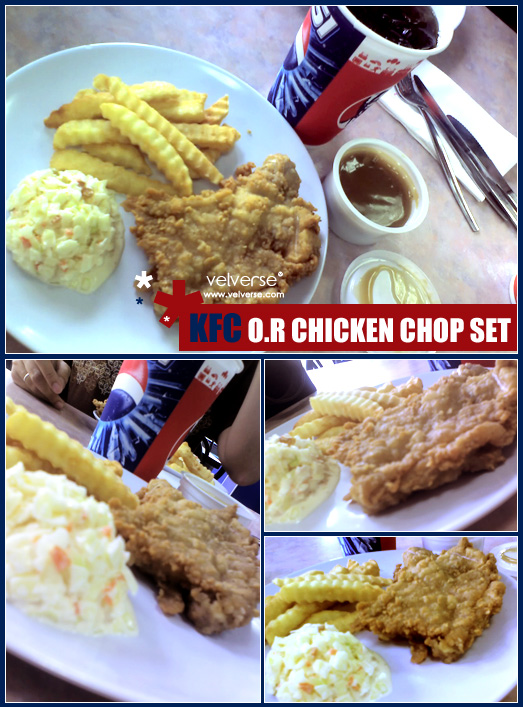 This new KFC O.R Chicken Chop has make it big chaos in this fast food industry thing. Yes, everyone is talking about it since they lauched their ads. I think by now, most blogs have a written review about it and well… I guess I am as usual… known for my fashionably late reviews.
Ah… KFC… yes it's always the nicest words to listen to when I have cravings for chicken. Fried Chicken to be precise. Many people look at this O.R Chicken Chop as a con as it's set is retailed at RM9.90 per set (tax not included). The set comes with a regular soft drink, a chicken chop, a box of mushroom sauce, fries and coleslaw.
I think this chicken chop set is rather pricy when comparing the price we are paying with the portions that we got. I bet a plate of chicken chop at some mamak or hawker stalls is cheaper with bigger portions.. and yes… for sure it is unfair to compare it this way. Thus, I am comparing KFC O.R Chicken Chop with their KFC Snack Plate. Judging at the size of their food… and price… The Snack Pates are at better deal… with.. well… more meat. I dunno if I am a big eater or what… but I just felt this chicken chop fails to nail my cravings for chicken. I guess it's good as a snack but not for main courses.
Anyway… looking at the picture… I only want to say… I had only like 12 sticks of fries on my plate
. I mean… 12 sticks! Potatoes is either getting expensive or someone stole my fries!
Yes.. as for the taste part…. the gravy tasted like the mashed potatoes gravy with some sliced canned button mushrooms. And the chicken with the gravy…. not exectly a great combo as O.R chicken itself doesn't really have the crispy skin to begin with.. and when added the sauce on to it… everything turns soggy and well practically it looks ugly! The part that I couldn't tolerate… the sauce over powers the chicken taste itself making me taste like I am eating a while plate of mashed potatoes.
Well… I wouldn't in exect words say it's a con… since from day 1… everything labeled with O.R is smaller than other KFC stuffs… example… the O.R chicken is smaller than the Hot and Spicy chicken. The O.R burger (smaller than my palm) is smaller than other burgers in KFC… what more you expect from O.R Chicken Chop? Just well… sack your "Taste and Approve Department" (no idea what you called that) and pump in new blood.