Backdated post. Actual event took place on
5 May 2006
.
The time is right, the date is being set and the show will begin. Everyone is eagerly waiting for the opening of Checker's Pub. Yeah, another new ground or place for us to hang out. Another place for us to gather and get together. Sit down, get a few drinks to get us started, musics to boost the energy and obviously friends to get us going on all night long.
Yes, obviously I was invited to the opening of this great place. How could I not be when my colleagues owns it ;). It starts of early in the evening but well, being fashionably late, I was there around 9pm. The place was packed. I could not see any familiar faces as it was so packed. I could only peek here and there… half way tip-toeing.
I finally saw some familiar faces behind the bar and at the DJ booth. But everyone was too busy to even got me entertained. I was walking around looking for a spot for me to dock and landed. Yeah… the right in front of the cashier place.
I didn't have my dinner yet as Azli drove me to the venue. We thought we could have some food outside as Prem told us, there will be a sorta mini buffet. I guess we were late and the food were all gone. So me and Azli move on to Shafiqz and have our dinner (which was terrible).
The food was slow, the service is bad and not the even mention the portion was small. If I may say.. yes.. it's very very small. Right, I haven't even want to get down on the taste and how cold the dish was.. as if it was being left on the counter for several hours when some concern people finally notice someone wasn't getting their food.
Well, that was that… didn't want to spoil the good day so yeah… we quickly whack whatever stuff there is and move back in to Checker's. Upon arriving, we quickly find a spot and manage to secure a place at the bar. Azli (the famous PR) was amazing. He seems to like know the whole world in Checker's. Was handshaking and talking to every other people.
Yeah… I felt so odd out and then he busy introducing his friends to me. Hehe…. how sweet kan!
Moments later, Loh came… and I thought I am fashionably late. Look who is later?
Just when you thought you saw him, he went missing again. He then went out and have dinner with Felicia. And the routine photo session just have to begin when everyone is back!
The camera is soon set in to action and all we ever sees is flash flash flash. Everything was just so cool. I finally met Prem's housemates and all which I could only hear stories about in office. Not to even mention I met Prem and Adrian's brother. Wow… just a whole new experience.
Just when everybody is busy taking pictures, the founding members of the pubs were being asked to go to the stage. Everyone was happy, excited and some were obviously shy. But right…. all of them looks cute right?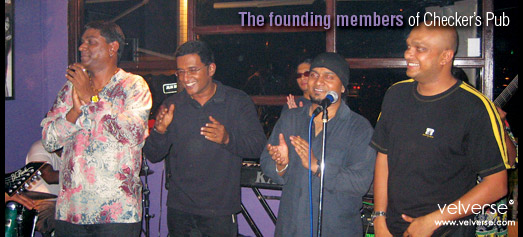 The night continues and more photos were taken. Right… when you hand a girl with a digital camera… make sure you have an at least 1GB memory stick that comes together with it.
Everyone was busy smiling, posing and what not in front of the camera. When suddenly a guy walk up to me and talk to me. Right, Azli (read here) make a big issue of it and posted a drama version of the conversation (yeah.. with loads of not true info).
By the way, Azli his name is Chris and he is not a blogger. He just so happen to read my blog and he didn't say he always come to my blog la. See false info everywhere in your post.
Everyone was then busy drinking so me and felicia decided to take some pictures here there and everywhere.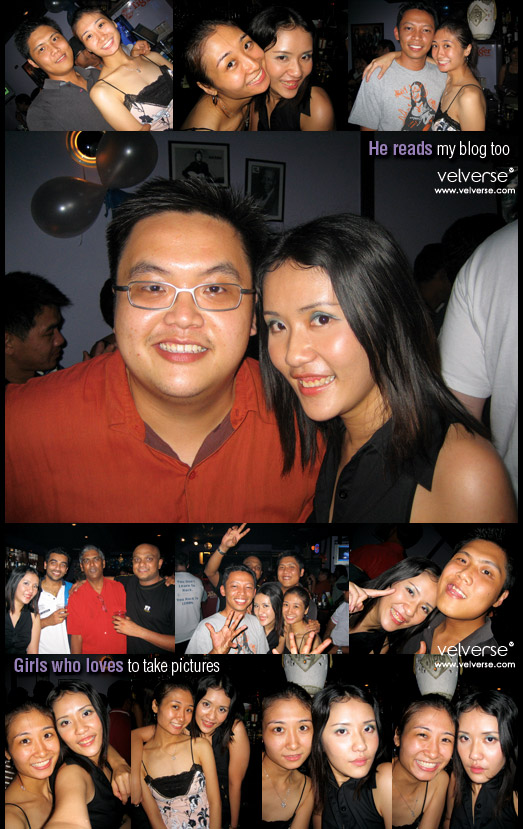 The band then starts to play and everyone is busy dancing. Woo… I never know Adrian and wife can dance so well. Not to even mention adrian's wife's friend. Wow.. they can really do the salsa man. I was so fascinated I just stop all the activity and watch them dance.
It makes me have this sudden urge to go learn how to dance.
Prem and Adrian was so busy moving around as they were the host. Only after like 2 hours, then I can get them to settle down and take a flare family photo. Can you believe it, we have been in the same office for like 9 months or so and yet none of us have actually taken a together gether picture.
Hahaha… dun be jealous as I am the princess in the office. Yeah, I'm the only girl in the office which well I guess by now everyone treats me like a guy dy! 🙁
Anyway I still think it's a nice and lovely picture.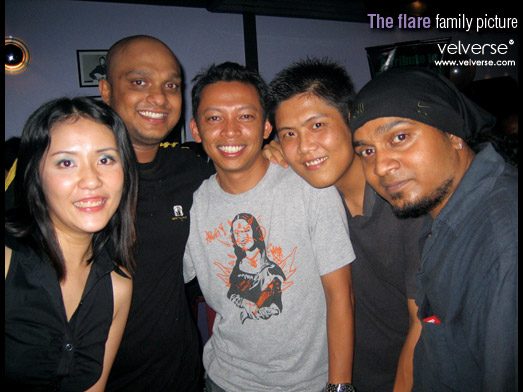 Meng then make his grand appearance. And now I don't think I am that fashionably late anymore as everyone tends to turn up later and later than me.
Just as he arrive, we already grab hold of him and take loads of pictures. Haha, right.. he didn't even manage to finish his first beer and we already go like *click click.. flash flash*
Loh, felicia, meng and me left sorta early. Yeah around 1am. Just as we were about to leave, the band (The La Viva) plays their second set.
As we walk out the room, people were dancing and singing together with the band. Well, the band was great I must say. Serious… they were good and if that didn't convince you, it manage to get Prem dancing… so yeah… that's how great they are.
I mean like hello, (people who knows Prem) how many times have you seen Prem dancing? 😐 Right! I am so dead if he sees this… but… muahahahaha
I am evil!
Checker's Pub
Address:
No. 42, Jalan 28/70A
Desa Sri Hartamas, 50480 Kuala Lumpur
Phone: 03-2300 4576
URL: http://www.checkerspub.com