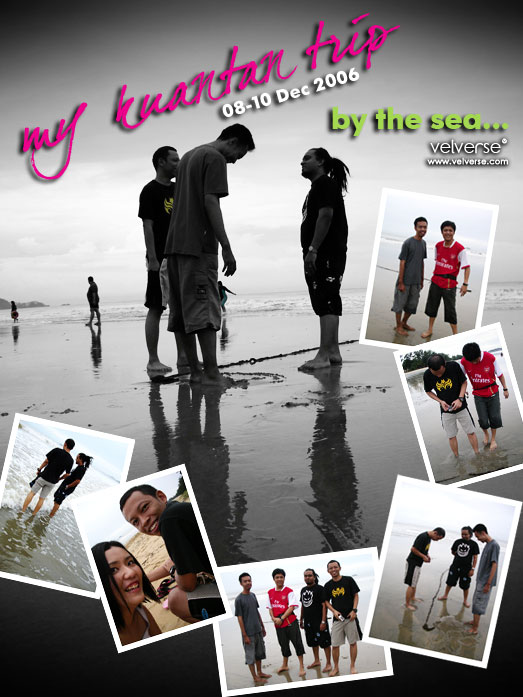 Backdated post. Actual event took place on 09 December 2006.
We finished our very last creative meeting and everything else after that was a free and easy time. We are free to roam around… lepak… sleep and do whatever we felt like doing. I thought of going for a little walk by the beach since it's just nearby. Dinner time is soon and I didn't wanna sleep. Little do I know… everyone else thought of the same thing. The moment I step out of my chalet, I saw the guys outside of theirs as well.
When ask, everyone is heading to the beach. Oooo… I am not alone after all. We walk there.. talk and joke around. Not to mention feel some sand and play with some sea water.
Haha… when things get bored… Loh starts to do some writing on the sand. Yup… velverse marks it's territory. It isn't such an easy job. The first few attempt was washed away. But persistant pays off. Yeay~ velverse was here!
velverse, velverse, velverse… this word was mentioned and I have heard it many times. All are wondering when will the Kuantan post be posted. Some would wonder what sort of pictures I am snapping. Some think my picture have bad composition and practically have nothing in it. When I say… I am using it for some background purposes… they give me this 😮 "what are you talking about?". Then again… I am too lazy to give detailed explanation. *snap snap*
Our stomach start to make noise. We dare not take unnecessary snacks since Prem and Adrian told us, they are bringing us to this place which serves BEST of the BEST stuff. It was quite far away from our hotel. So yes, when we saw this huge Pak Su Restaurant signage, we are damn happy.
At the front of the restaurant, one can see loads and loads of tanks filled with different variety of seafood. Thank god I am not the one ordering. I am quite bad when it comes to options and choices. While Prem is busy ordering what's cool, the rest of us can't help but to look around… make faces and snap photos.
Food arrive quite fast. As a matter of fact… very fast. Before I could finish taking picture of everyone, we were each presented with the Famous Pak Su Stuff Crab. I must say… IT IS HEAVENLY! The amount of crab meat in this thing… minus t the hassle of cracking up the crab and washing the hand… oh yes, it just adds up to one word… FANTASTIC!
Dish by dish starts to pour on our table. Fried Crab with Salted Egg Yolk, Deep Fried Squid, Fried Prawn with Butter, Steam Fish with Nyonya Sauce and Asparagus with Scallops. We just can't wait to taste it. I normally don't agree much on their BEST of the BEST remark… but this… I must agree. The Deep Fried Squid is simply amazing! Lovely and tasty. The crabs, I can never get enough of it. Despite the starter Stuffed Crabs, I still crave for more. It's really hard to describe how I felt… but one thing for sure, I will be back if I had the chance!
Pak Su Seafood Restaurant Sdn Bhd
Address: No.4/1417, Batu 6, Lot 922, Kg.Bahagia Beserah, 26100 Kuantan, Pahang Darul Makmur.
Phone: +609-544 8025
Opening Hours: Monday to Friday: 11.30am – 2.30pm, 5.30pm – 12.00 midnight
Website: http://www.paksu-seafood.com.my/
After a filling dinner, we decided to lepak at some pubs. Nope… no major party and get drunk thing going on tonight. Just a little get together… chit chat, play some pool kinda get together thing. It's seriously relaxing. Apparently, this joint used to be quite famous and popular and would be full during the weekends. But hemm… I wonder what happened. Anyway… some quiet moments are good. Very very good… as for me, I am dead tired… I head back, fall asleep thinking of what good food is waiting for me tomorrow morning.