Doink… and out comes jack in the box. I always think it was scary. As a kid or even now. I still don't understand how people could think clown that hides in a box as cute, funny and nice. I just finds it scary. Probably it has been overused in scary or horror movies back in the 80's. But then anyhow, let's see our own jack in the box.
Jaebot is back. This time around he have this cool ZiZou in Ze Box. With the current hot headbutting issue. I just love how he put and fully use the issue and put in nicely in to the topic. Brilliant and totally cool! But I still support you ZiZou. Headbutt man.. headbutt!
Takeru's jack in the box is currently Jack Out To Lunch Box. Hahaha… Just so cute, we needs a break, Jack needs a break too. Guess Jack will be back when Jack is done with lunch.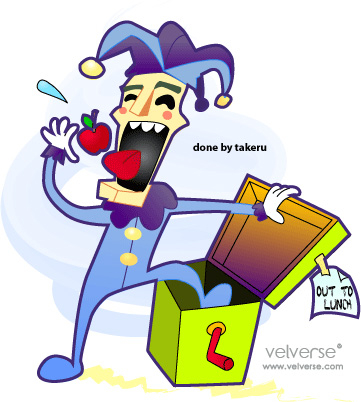 Jimbo is awaken again. This time, a new cutie character. A totally bone lover. Constantly biting a bone and imagine that jumping out of the box. Totally love the colour play and I still want the tee!
I manage to submit my Meekey in the bin. Hehehe… I just tot it would be run to do a cute and cuddly mouse jumping out form a bin. Yeah… a Mickey wannabe. Everybody love Mickey! So yeah, pay some attention to Meekey too okay!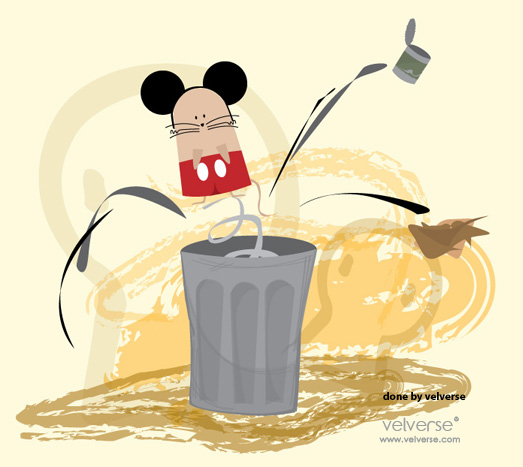 Right… miss Brian's sheeps in action? Yeah.. he is sorta busy for the day and well… I'll just add in tomorrow. So stay tune!
*added on July 26th* Yeay Brian finally manage to submit his Sheep Outabox. Due to the late submission, I guess his sheepo sorta do the Flinstone's style and runs here quickly. As scary as it can be, it finally set foot in our Crossroad submission. Bravo!
What is up next week?
Project theme: Tiki Doll Project description: Feeling cultural, feeling a little tiki. Right.. tiki bar, tiki hut is so famous everywhere and I decided to get a little tiki. So yeah… get some leaves and hawaiian shirt and everybody let's get tiki

Project deadline: 1 August 2006, Tuesday.Submit to: mandy@velverse.com
Anyone and everyone is welcome to join. Be it good or bad… it's just something we do for fun! Generate some cool ideas and well.. surely fill up some of our boring times 😀
Click on the banner go link to the project crossroad gallery.