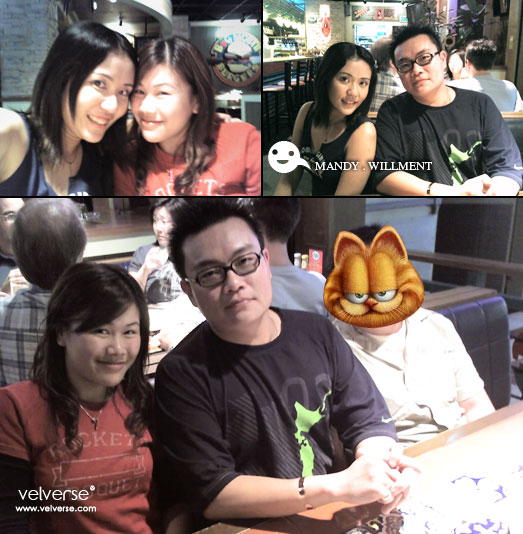 Backdated post. Actual event took place on 25 April 2006.
Right… after chatting and messaging and go back and forward reading GhOsT's blog… I finally get to meet him in person. Hehe.. he decided to come down to kl for a quick tour. Hemmm actually yeah, he had a busy Genting schedule so yeah, apperently he just drop by kl with his friend Willment, went shopping around klcc a little and have dinner with me and gigi and then straight away rush up to Genting.
Well… how did I landed myself on GhOsT's blog you may ask… hemmm… it was well by coincidence I may say. Everyone who follows my blog by now should know I am a huge fans of Andy Lau (right.. I am bringing Andy back to live in my blog). Eventually Andy came down to Malaysia to wrap up his Vision Tour right on my birthday's eve.
The next day, I was busy looking around the Internet for Andy Lau's Malaysia concert pictures which is how I stumble into his blog. Right… I needed pictures to finish up my posting about my experience in the concert (click to read about the concert).
Yes, if you revisit the link you will notice I took a few pictures from GhOsT's site (Yes, you should read it). Which is where I started to look see look see and peek around his blog. Ah… what a coincidence eh… hemmm who knows.. maybe we walk pass each other at the concert.. who knows. But well, at least this time I met him for real, the first time.
Haha… he is so shy (much to my surprise). Yup, despite the way he answer his comments and chat and well the great stories that he tells in his blog. I guess his friend Willment talks more than he does. Hehe…
p/s – you might be wondering how come I cover GhOsT's face with a Garfield face eh. Hemm.. how rude of me
. Ermmm actually it's by request. Hehe… he woud prefer to remain anonymous. Ermmm… Don't ask me why as I think he would do a better explanation than I do.