Steel, cold hearted, emotionless. That are the constant words used to describe robots. Everyone thinks that way. I think that way too. How can a robot take over the world and take over human. It's just so not possible. But then again, impossible is nothing. This week, I decided to go for the Robotica theme. Right, since some is bored with animals and what not. So yes, I proudly present you with Robotica.
I sorta think this weeks title is a little too difficult for many as… ahhahaa… I've some messages and all thinking it was rather challenging and hahaha the number of submissions just lessen.
Jimbo bombard me with a bluish image right… with a very emotional and heart-felt robot. Ah… so cute and lovely robot named bobot. I think the robot looks kinda cute reminding me of rappunzel (lets hope I get the name rite). Ermmm just that now she doesn't have to let down her hair. 😀 Just so cool.
Brian did up this sheepotic. Hehehe… I somehow felt it looks more like a red penguin. But well.. the retro feel with the redness, does makes it look cute.
Me and my dumberbot. My cute little robot that rolls around.. right… to fat to walk. Rolls around Roboland. With it's braces and screws on the lose.. well.. right.. it's not some smart robot. It's dumber than dumb robot. But well, he is cute and aggressive robot. Grrrrr…. beware~
Takeru hehehe… handing in late homework this time manage to submit us with one of his own transformer version of robot. Right…. no other than his takebot. How cute, it eventually transform in to a tortoise. Haha… I guess he has special interest with tortoise.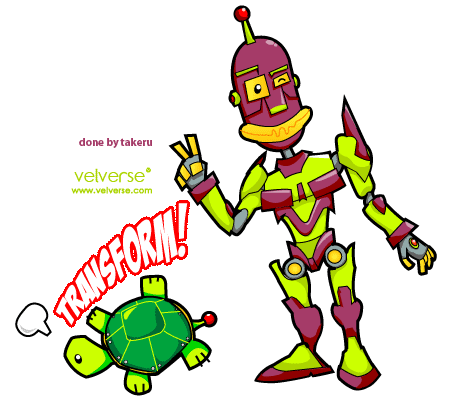 What is up next week?
Project theme: Little Samurai Project description: Right… Suddenly the japanese culture cross my mind.. and I decided on doing some samurai stuffs. Hehe.. The seven samurais, samurai jack, the last samurai… ah… all about the samurai. So samurai's unite!

Project deadline: 18 July 2006, Tuesday.Submit to: mandy@velverse.com
Anyone and everyone is welcome to join. Be it good or bad… it's just something we do for fun! Generate some cool ideas and well.. surely fill up some of our boring times 😀
Click on the banner go link to the project crossroad gallery.