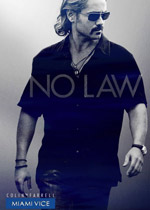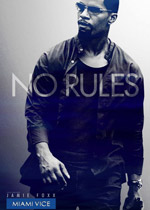 Miami Vice official site: http://www.miamivice.com/
The 80's baby would know this movie by heart or just by listening to it. Yes, bringing the famous TV series in to the big screen. It's really a daring and brave move since it was a big hit back then. Which makes me wonder when they are bringing Airwolf, The A Team, McGyver or Knight Rider to the big screen anytime soon.
I hesitated a long time, to go or not to go. To see or not to see… since Colin Farrell disappoint me like no other actor does in a million years over and over and over again. Seriously, it all started with S.W.A.T, which I think was a sloppy, boring, uninteresting, no peak movie (can you imagine I went with a group of 4, the other 3 were sleeping, I was about to fall asleep and kept looking at the watch wondering when it would end).
I promise myself to never see another Colin Farrell movie but Alexander was too great to resist! I can't help it when Angelina Jolie and Anthony Hopkins is in it. I tot like… okay… I see a dim light at the end of the tunnel, which actually turns out to be a false hope!
Yes, I swear to god.. I will not see another Colin Farrell movie ever ever. Which explains why I give "The New World" a pass. But then, I have sinned! I watch another Colin Farrell movie! Sigh… who could resist Jamie Foxx and better still Gong Li. I mean it's GONG LI!!!!! My goddess! And if it wasn't for her… Miami Vice is yet another passerby.
What can I say when they are beautiful cars, nice watches, nice sunglasses plus my goddess in it. What I can say, minus all that off, it's yet another forgetable movie. Which means it's bad… no no.. not bad… to me that's very bad! A famous big hit TV series now turns forgetable?
Okay, I am not sure if the movie was censored or what, but this is the first movie I saw without an opening credit. It jumps straight to the movie where you see Detective James 'Sonny' Crockett (Colin Farrell) and Detective Ricardo 'Rico' Tubbs (Jamie Foxx) was in a club on some operation when suddenly Sonny got a call from an undercover that is handling other cases. His cover was exposed and his team members were brutally killed. Which makes me wonder why that undercover didn't call his boss but instead he called Sonny and Rico.
Blah blah blah… drama here and there and then Sonny and Rico was then pulled in to the scene doing the undercover thing since their department is the only department out of the case senario thing. Yes, now from a normal detective, they are going to find was to fit themselves in to the drug trafficing industry.
Their main target, Arcángel de Jesús Montoya (Luis Tosar), is the mastermind behind everything. But before they could get close to him, they would have to convince José Yero (John Ortiz) that they are worthy. While in the process of getting close, Sonny hooked up with Montoya's business partner/woman, Isabelle (Gong Li). Which apparently means bad news.
Although this movie was directed by the same person who directed Collateral, this one is far from it. It's more of the S.W.A.T director. It's one long boring movie. I am serious, I kept flipping my handphone wondering what time it was. Is it ending soon? Is anyone dying anytime soon? Is the credits going to come rolling any minute soon?
Besides the gun fight scenes that is quite realistic, which is where they add in shaky approach and the gun wounds, it was plain boring.. talk talk talk.. yak yak yak… which half the time I wonder what they are talking about and why do they need to talk that much.
The partnership between Farrell and Foxx was not intense enough. They just seems to have no chemistry. It's so fake. It sounds fake, it looks fake especially when there is a scene Rico talking to his boss about him trusting Sonny."I trust him, without a doubt". To me it sounds like just reading the script. Not to even mention the ending is like no ending when they just bring you go round the bush and end up at the starting point with no closure or anything. Which in my opinion leaves a big room for second episode.
The best part, detectives in Miami seems to earn a fat and juicy income, allowing them to drive Ferrari, have designer watches, super cool sunglasses and all. Don't the ICAC ever investigate them? I wish I was a detective man! I seriously wish!