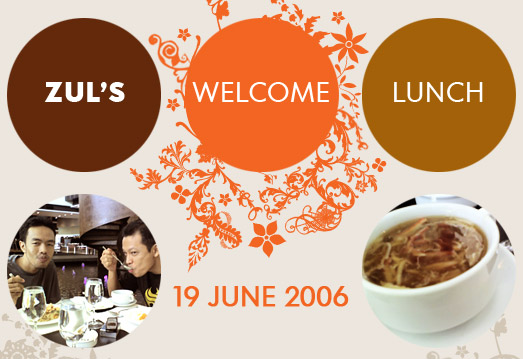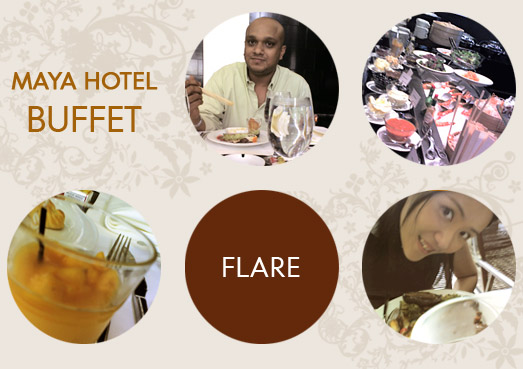 Backdated post. Actual event took place on 19 June 2006.
Haha.. the day after I return from my Cameron trip, my office decided to go have lunch buffet at Hotel Maya. Yeah, that's the closest place ever to my office. Some may ask what's the occassion. It's actually a welcome lunch for Zul. Yeah, he is the new designer.
Yes, another addition to the Flare family member. Which still make me the only girl in the office. Well, supposedly Zul has join us for like a month or so… maybe two. Yeah, so it is sorta like a delayed lunch thing.
Hehe.. well which is also an excuse for us to try out their new theme. This time around it's the Chinese like theme. Most of the stuff were cook in chinese style.
We've got shark's fin soup, kam heong prawns, stir fry vege with mushrooms, mussels, stir fry beef and loads more. Prem was complaining why the sashimi's were still there since they change the theme. But well, I guess it's always been there. No matter how the theme changes.. they surely have it there, but unlike previous round, they didn't have fresh oyster this time, instead… it's been replaced with some kinda "la la".
Well… what can I say, "welcome to the family" (yeay.. another guy for me to bully) *evil grin*
Maya Brasserie at Hotel Maya
Address:
138, Jalan Ampang,
50450 Kuala Lumpur,
Malaysia
email: info@hotelmaya.com.my
Reservations: +60 3 2711 8866
Hotel Fax: +60 3 2711 9966
Reservation Fax: +60 3 2711 2277