Everybody needs a little support and cheering up. Needed it badly especially when we are all tensed up, needed to win badly and not to even mention looking at their moves just surely make people ease a little. Many guys die to date cheerleaders while many girls die to keep in shape to be a cheerleader.
It's been a while since jimbo last show up with an illustration. Probably the sexy cheerleader just got his attention. This time with a different style of illustration, a more watercolour style. He said he wanted to add more texture to his artwork. So yes… sexy cheerleader that have long nice pink hair. Short baby tee woohooo… pom pom… Let's cheer!
Give me a V. L B did this cute Cheerleader… for velverse 🙂 Awww… so cute. Hehe, now cheer for me! yeay… Hop hip hooray… hip hip hooray. Ah… so white, so sexy, so V.
May join in the fun as well this week with her cool cheerleader. Hehe… I think it is cool! It's her first few attempt with Illustrator and I can tell you. She is mastering the tool like a sponge soon. Great job. And I bet you cheerleader is sexy enough to make guys drool.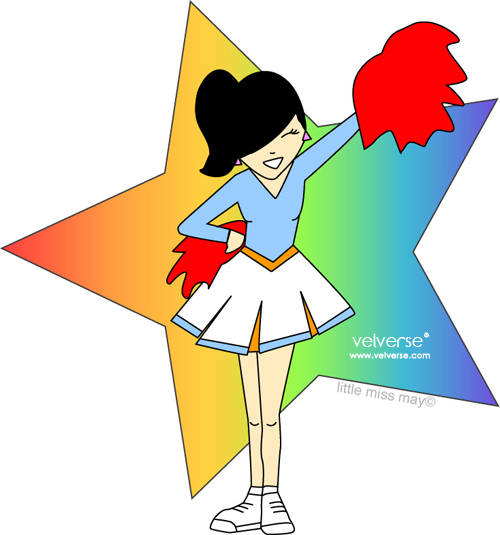 I continue to use my Adobe Illustrator Cute version. Which makes my cheerleader a cute one. Lovely and adorable. Yeay! I just love the cute and adorable little girl that cheers around. Yes… three cheers for everyone who participated. *cheers, cheers, cheers*
What is up next week?
Project theme: Prince/Princess
Project description: Either way, you like the female or the male royalty. The one who rules them all. Oh yes, I am so inspired after watching the korean series.

Project deadline: 1 November 2006, Wednesday. (It's a long weekend holiday over here. So yeah! It's a two weeks of sketching and drawing)Submit to: mandy@velverse.com
Anyone and everyone is welcome to join. Be it good or bad… it's just something we do for fun! Generate some cool ideas and well.. surely fill up some of our boring times 😀
Click on the banner go link to the project crossroad gallery.