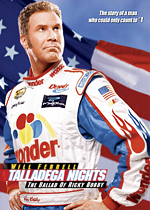 Movie Title: Talladega Nights: The Ballad of Ricky Bobby
Rating: ⭐⭐⭐⭐⭐⭐ (6/10)
Year: 2006
Talladega Nights: The Ballad of Ricky Bobby official site: http://www.rickybobby.com/
Being a movie crazy person, with fast cars, comedy all add in… who could give this movie a miss. Especially with Sacha Cohen (more known as Ali G) in it. After all, this movie does remind me of the animated CG movie "Cars".
Telling a story of a legendary driver, Ricky Bobby (Will Ferrell) in the NASCAR. The Talladega Speedway, is the biggest and fastest racetrack in the NASCAR. Ricky Bobby is born in the backseat of a souped-up Chevelle. He always wants to go and drive fast. When he was young, he took over his mother's car while she was buying groceries. He was then more motivated when his father, told him his golden phrase "If you ain't first, you are last".
Together, Ricky and his best friend Cal Naughton, Jr. (John C. Reilly) decided to be a fast car driver in future. they both started to work as a pit crew member for a team in the NASCAR. However the team was not motivated as they were always last. One day, Ricky got his opportunity to drive when one of the drivers were too slack eating burgers and all. Yes, what a chance!
Then onwards, he is known as one of those crazy drivers that could really go fast! Very fast. He then brought Cal in and make him his partner. Cal would always support and help Ricky out when he needed it most although he could win the race. He just gives everything up for Ricky.
Ricky on the other side starts to get proud. Yes, leading a perfect life having a beautiful and sexy wife, rich and family he started being rude to everyone else. Being so afraid to lose, he wouldn't even give Cal a chance to win in the race. his luck ran out when his company decides to bring another driver in to boost up the team's points and position.
Jean Girard (Sacha Cohen) was brought in to the scene, being a famous F1 racer who fancy Jazz music and sips espresso while driving. He is like devil sent to earth to just mess everything else for Ricky. Being a great driver but a gay one surely add a whole lot fun and laughter to the movie.. especially when he requested Ricky to give him a mouth-to-mouth kiss.
Ricky is now in desperate need to beat Jean. So desperate to win that he landed himself in to a major accident and from there onwards, he started having illusions that he is on fire and leads to him driving slower than a tortoise. Ever since then his life gone upside down.
His wife wanted a divorce and get together with Cal. Cal now takes over Ricky's place. Everything just went so wrong. But one thing for sure in movies like these, we surely does know how the ending will turn out to be without the need of me telling.
Overall, it's a very entertaining movie with loads of jokes and hilarious scripts. I would say it is a well balance of laughter and action at the same time which keeps the audience focus and not stray away. It's one of those movie you should really sit down and see when you were troubled and feel down! A sure cure!