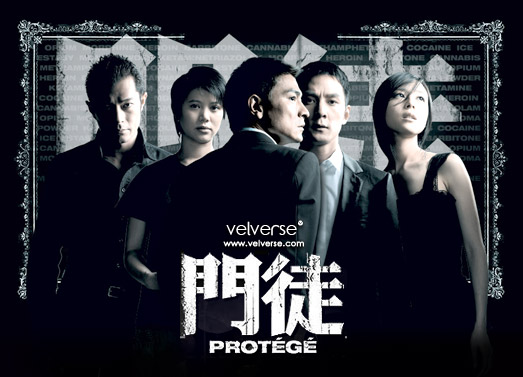 Protege official site: http://www.protegethemovie.com/
Protege, a movie that has taken up 3 years to research and prepare was finally released to the screens a few days before chinese new year. From the director of Lost in Time and One Night in Mongkok, Derek Yee is back to stunt us again with a drug awareness movie. Yes, a pretty much overly discussed "say no to drugs" topic is being digged out from the grave, open up and just display. It was to that extreme of detailness which I admire most.
Of course this explains the 3 years of detail research and preperation. Inclusive of the actors and actress taking the initiative to visit and interview drug addicts, former drug lords and junkies. What adds up to the hype of the whole movie was the casting. Bringing in Hong Kong top notch actors and actress just gives more flavour to the movie.
As an Andy Lau fans… I would do anything to just see the first screening. Which thank god, I really manage to make it there. No kidding, regardless of how much work and how tired I am that day, I just bring myself there to see it and believe me, it's all worth it when the movie starts.
Protégé starts of with a cat and mouse chase between Nick (Daniel Wu) and the police. Right at first glance, if you have never ever read the sypnosis and whatever not and just walk in to see the movie, the first 15 minutes will get you thinking Nick is one of the best drug dealers in Hong Kong. No doubt, his planning to execution to distribution is just amazing. Old school tricks where we practically see in many Hong Kong TV series and every other drug dealing movie still works. Like the elders said, "it doesn't matter if it's a old trick, as long as it works". The level of detailness and carefulness just manage to blow one away. Yes, the cool looks and the confidence just shine's in Nick's face. The best part is when he settled his job, he just throws his phone in to the lake and the next minute, you see him buying second hand phones from small stalls in bulks for a cheap price, get another prepaid card number and calls his mentor/boss Kwan (Andy Lau).
Kwan is Hong Kong's top drug lord hidding behind an identity of a businessman that owns a big electrical shop. Born diabetic, Kwan's helth soon worsen when his kidneys is failing badly. Due to his health issue, he would have to pass over his drugs business to someone. Kwan trust no one except for Nick as Nick seems to be just the perfect candidate. Capable, careful, efficient and practically flawless.
Little does Kwan know, Nick is actually an undercover sent by the police force to expose the drug trade and capture Kwan. In the eight years, Nick has also grown close to Kwan with the protégé and mentor relationship. What puts Nick on a dilemma is when Kwan is all out to protect and help him knowing that Kwan treat him like his own brother.
Being a careful person, Kwan always believe the drug trade should be done carefully as one mistake could be a point of no return. Kwan breaks and seperates everyone from gathering together. The multi layered system is what kept him and his partners safe. Of course there are people handling everything from storing to producing to distributing. However, Kwan do not get involve in everything. Everyone have their own role and Kwan job is just to oversee everything.
Nick finally got his chance to learn and know about the processes when Kwan was admitted to the hospital. Kwan taught him things he needs to know to survive in the trade, how the business works. Kwan even brought Nick to his storage factory.
On the other side of the story, Fan (Zhang Jing Chu) and her daughter stays right opposite of Nick's place. One day, Fan came knocking on Nick's door asking him to spare her some instant noodles. Eating the last bowl of it, Nick offers bread and jam instead. When Nick saw Fan and her daughter ate as if they have not eaten for days, he starts to care and concern for them. He brings them supplies and even pays them a regular visit. The concern and care blooms in to a quick relationship. However Fan quickly disappoint Nick when he found out she is a drug addict. What is worst is when Nick thinks that Fan drugged him as well.
Fan promised Nick that she would quit and asked Nick to help her. Of course the kind hearted Nick is all set to help her when she explained how she goten herself into being a drug addict. Apparently his husband (Louis Koo) is a musician who take drugs. She tries to convince her husband to quit but his husband keep saying it is impossible. She then starts to take drugs to prove to his husband it is all in the mind. She then admits it was impossible and continue on and ended up where she is now. With Nick's help Fan was getting better and is persistant to quit drugs. Everything was ruin when his husband shows up in her life once again.
Back to more drug dealing story, problem soon arise when one of the supplier from the factory could not deliver the drugs to Nick as they are lack of manpower when one of the staff is sick. Nick would have to go to the store to collect it while giving away location to the police. Unknown to him, the imigration officers were there trying to bust the pirated vcd operation a floor below Kwan's drug factory. When Nick went in and leaves a trail at the toilet, the imigration team thought they finally get a lead to the pirated vcd factory location and caught Nick.
They then notice it was a mistake which turns out to be a golden opportunity to get a raise and increament. The imigration officers (lead by Liu Kai Chi) soon tries to bust the place. Nick manage to run away with the store owner. Kwan was furious when he saw the news. Upset and angry over his lost, he started to suspect Nick. Kwan then ask Nick to follow him and his family to go Thailand where he wants to go for prayers.
Just as Nick left, Fan's husband came looking for her and screw up her entire plan to quit drugs. In Thailand, Kwan as a devoted father brings along his wife (Anita Yuen) and his 2 children for a holiday as well. Showing bits and pieces of information how caring he was as a husband and father, he actually wants the best for his family. Food, accomodation and everything is just luxury.
Early next morning, Kwan brought Nick along and went rounding around while blind-folding Nick. They then drive around, cross the river riding on elephants and all, which ended up with both of them in a camp. There, Kwan questioned Nick as he suspects he is a traitor. However Nick manage to escape the suspicion. One could actually see how relieve Kwan was when Nick manages to prove his innocence, not knowing what the future is installed for him.
Kwan then introduce him to his supplier, a jeneral at the Golden Triangle. There, he explained a lot about life and what drugs are worth to them? What is it worth to the farmers? The best part is how the research and statistics done by the government about drugs info help them to learn about the current trend.
Back in Hong Kong, Nick was totally disppointed with Fan and refuses to care for her and her daughter anymore. Fan was totally upset and felt guilty. Things went downhill when her husband won't allow her daughter to go to school, instead help him distribute drugs. Not willing to take things anymore, Fan slipped a note at Nick's postbox.
One day, Fan's daughter come knocking on Nick's door claiming she is very hungry. Nick then cook some food for her and then try to send her home only to notice Fan is dead with her body rotting and being eaten by mouse. Nick screaming and in the verge of breaking down act was somewhat funny.
Kwan then decides to leave Hong Kong and goes to USA to do a kidney transplant and plans to retire there. He officially pass his position to Nick and even transfer his 8 million dollar deposit with the jeneral's to Nick. At the very moment Kwan and family decides to leave, the police stopped him and caught him.
At the police station, the head officer (acted by Derek Yee himself) throws evidence of Kwan's activity since 1998 and asked Kwan to disclose his other partners. Having no choice and wanted his family to lead a better life, Kwan commited suicide by slitting of his throat. Nick was there to appologize for betraying Kwan. Seeing Kwan soaking in blood, he wanted to asked for help. However, Kwan begged him to keep quiet for the sake of his family which actually is the last and only thing Nick could do to compensate to Kwan.
I must say, the attention to details, terms used was simply amazing. I learn quite a bit of stuffs from the movie. Of course I wasn't happy with the obvious censored scenes where I hope to get a DVD later on to see.
Now… I would have given the movie a 9 if there were more attention being added to the characterization and if they make Louis Koo looks a little more better than what he looks in the show. Seriously I am disappointed with the fact of how the characters were under developed. Everything was pretty much just a brief. Not to mention everyone else except Andy and Daniel have less than 30 minutes of appearances.
I could forsee Protégé bagging a lot of awards. But somehow I think it could be better. I think the story is way too big for a 1 hour and 40 minutes movie to support. Even the big cast could not cover everything. I was even some part disappointed with the loopholes of the plot like… Nick's soft spot for drug addicts and constant questioning and diapproval of Kwans way in business… and yet he still gets Kwan's trust without rising any suspicion until the raid? Nick… as Kwan's top man stays at such a junk house? Come on.. I am not talking about big bungalows and not.. at least a decent flat or apartment.
I was troubled witht he fact that it was overly done anti-drugs messages. Through out the movie we all know how bad it was and I think they could actually just skip the whole ending part with Fan's daughter throwing away Nick's drugs. But then again, probably it's needed in order for them to pass the censorship boards.
I liked the idea of how Derek Yee connects the drug lords who thinks nothing but themselves as businessman. They felt they should not be blamed for corrupting the people. In their mind, when there is a demand, there are supply. It's all up to the end user to decide as he or any other drug lords never actually force them to take drugs. It then brings it a level down to the drug addicts which pretty much was potrayed by Fan and her husband. Then the families, be it the drug lord family or the drug addicts family. The suffering, the burden they all have to take up.
I said this because I truely think and believe Andy Lau really did a great job with his acting in this movie. Yes, something different from what he has done from his previous 115 movies. I must say his acting skills have gone to a new level where you can really see how much hard work he have put in to research, details and even facial expressions. Daniel Wu was doing great as well given a lead role however his screaming and ending scene spoils all the hard work he has done for the show. Being a 6 months pregnant mother, Anita's performace was simply amazing and stunning. All I could wish for is for her to have more screen time to show more chemistry and bonding with Andy.
And what can I say, I was just disappointed with Louis. Not that it was his fault. I think his role was simple under developed.. raw… and ugly. I just didn't understand why they want to do this. IF it's for a change and breakthrough thing… it really did work out well.. otherwise, I think this is one of the key element that fails the movie.
It's surely worth the time watching during the Chinese New Year (if you just bear with Louis Koo).