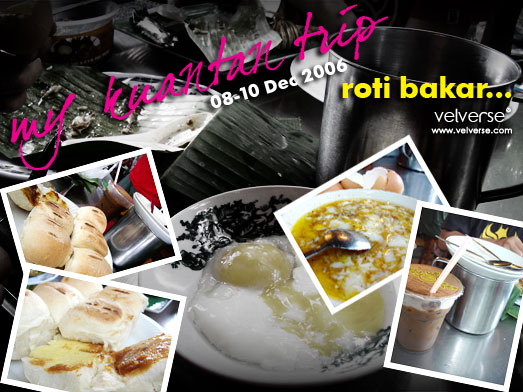 Backdated post. Actual event took place on 10 December 2006.
A really good night sleep make me wake up sorta early. Ah… so does everyone else. For the first time, I don't need to call and wake anyone up. Amazingly, some of them were at the hotel's cafe.
However, everyone is pretty much bored with the complimentary breakfast. We are all saving our stomach to try roti bakar. It's said to be delicious and their coffee… woohoo… was describe as "better than starbucks". Okay… now that sounds convincing.
It's quite a distance since we would have to go inter-state. Well, we are actually going to Terengganu for breakfast. Haha… talk about locating good food no matter how far it is. I wasn't really sure how far it is… cause I fall sleep here and there along the way. By the time I woke up, I am already in Terengganu.
We parked right on the opposite road from Kedai Kopi Hai Peng. I must say, they really have a weird parking system in Terengganu. Something very different from the ones in KL. It's really hard for me to explain it here… but.. haha… it's really shocking! They have this sorta confusing and complicated… er.. okay not complicated but troublesome way to pay for the parking ticket. But then again… it's really something new. I always thought we have one particular standard parking system.
We got a place at the coffee shop. It seems to be a miracle since it was describe as a place with loads and loads of people. One would have to wait for quite sometime to get a place there. Prem introduce some stuff to us which is their Roti Bakar (toast) and their coffee. Woohoo.. so yes, everyone of us have our portion of roti bakar and a nice cup of ice coffee.
There are many other delicacies sold in the middle of the shop. Everyone went around and grab stuffs they love. Prem highly recommend their Nasi Dagang. I gave it a try and it is really really great. Besides that I had some nasi kunyit, pulut udang and some nasi pulut.
It's really really really really very filling. Yes, I eat a lot. I know~ but well, it's not like I come to Terengganu everyday :).
It's not only me who enjoyed the breakfast spread. Everyone thinks it's really great and yummy. No kidding… well, I guess picture says it all. Yup, we filled our tummy… hop on to the car, fasten our seat belts and is all set to get back to KL.
Goodbye Kuantan, goodbye Kemaman… hello KL~
Hai Peng Kopitiam Sdn. Bhd.
Address: 3753, Jalan Sulaiman Chukai, 24000 Kemaman, Terengganu Darul Iman.
Phone: +609-859 7810