Okay, I should jump up and celebrate again… coz it's been a while since my cousin tagged me. Come to think about it… I still owe Simple American a tag. A long lost one. I gotta go look in to it before he thinks I forgets about it.
Being a curious aka kepoh cousin, Nicole just wants to know everything about me. It's really kinda hard, since I gotta do the tag and yet not diclose so much info about everything. The story about my 10 most unforgettable moments is about to begin.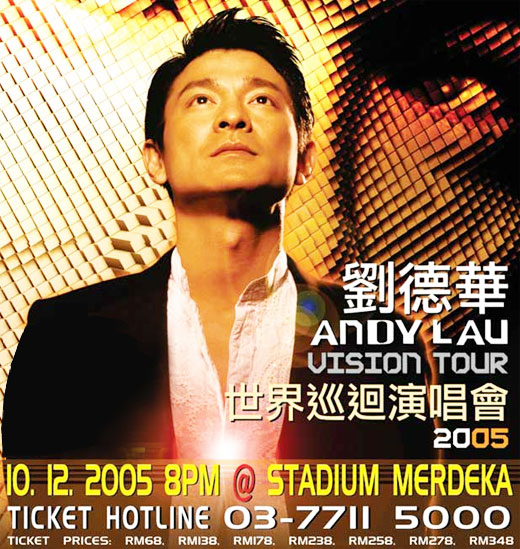 You know I would take any and every chance I have to promote Andy Lau, so  here we go. Okay… as a big fan, I kinda see myself as not such a big fan. I don't really go to any promotional activity. I guess in my entire years of liking Andy Lau, I never met him before until I went to his 2005 Vision Tour concert. What makes things more unforgettable was the concert was a day before my birthday. Ah… that makes all the difference. Not to mention… the ending part around 11.50 with all the fireworks. It really gives me this really cool birthday feel~
Oh… yes, that is why I adore him so so so so so much. Read my full review, click here.

I recall the incident happened during my college days. I was on my way to klcc in the LRT. When suddenly some guy came up to me directions. He was suppose to stop 2 stations before I stop. While on my way, I felt that strange feel one have like someone is staring at me. When I turn over, I saw the guy just now staring at me. Later on, I look elsewhere. When the stop that he initially wanted to get down arrive, he didn't get down the LRT. I started to get worried. When I arrive in the KLCC stop, I tot everything would be fine after I jump out of the train. My heart starts to beat faster when I notice he jump out of the train as well. He then suddenly walk up to me and stop me and told me he wanted to be a friend. I tried to ignore him and walk off but he kept following me and keep talking to me and says he wants to be my friend and stuff. I was totally freaked out.. I didn't know what to do and  just walk to the place with the most people and called my friend to check if they have arrived. Haha… I guess I am pretty much lucky. The guy saw me going to the busy place and was too scared to walk up to me and left shortly after that. Phew~


Right, someone wrote me a love letter. No, it's not my very first love letter that is unforgettable. Haha… in fact it happened quite recently and it so happened to be the last love letter I got. I mean, seriously after e-mail was introduced and widely used… I am pretty much surprise people do still write letters. Okay… what makes it unforgettable? Coz the guy scared the hell out of me. It was like a 6 – 8 piece of A4 paper folded up and placed in this envelope… which makes the whole letter super thick! What sort of surprises me is he slip it under my house door when I was about to open the door to go out. Now that I come to think of it, I wonder how the guy slip the letter under the door since the gap isn't that big after all.
It's really hard to forget how I paid for my very first trip. Yup, my very first Bangkok trip with Jimbo. Haha… it was really fun. I enjoyed it very much. Well, of course the saving part takes ages and after the trip, I do felt a little upset. I mean, it really makes me feel happy moments don't last that long. Not to mention, I will have to save for like a year only to finish using all that I save in 4 days time. Hemmm… Life is so mean 🙁 But well, I guess that is what makes holiday valueable.
Read my full review, Day 01, Day 02, Day 03, Day 04


I seriously had a big big birthday party. Okay… not really, just I felt I almost travel quite a lot of place just to celebrate my birthday. My KL friends celebrated my birthday for me at some mamak, then I celebrated birthday with my MMU friends, then of course I did a couple of different celebrations with my online friends. Then head up to Penang for yet another birthday treat, continue to stop in Ipoh and then landed myself on Malacca. No kidding… I have sorta like a 2 week birthday party celebration. Haha… talk about being a busy girl back then. Yup, compare to now… I actually party way way way way way way way lesser. Ah… signs of me being old!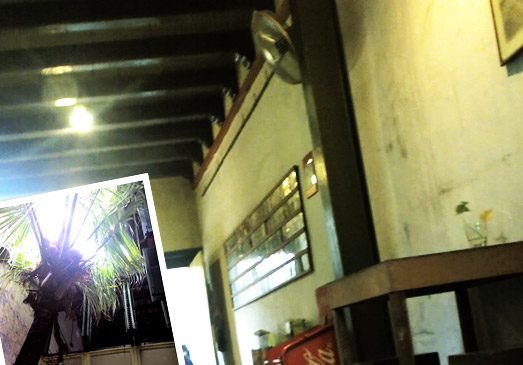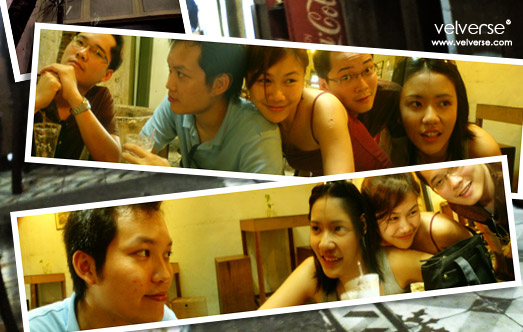 I could still remember how we were all so happy and we still are :). We all decided to go to Malacca. Jon would have to prepare the full itenary and bring us all to eat 10 different food in one day. We really had a great time. I guess all of us have a hard time forgetting how tasty the Black Pepper Crabs and the scallops were. Aww… now I felt hungry. Not forgetting the singing while driving part. Haha… that is really funny man. But then again, nothing beats how we followed the wrong car. I felt it was the happiest moment and trip the V.V.I.P have ever organized :). Hemm.. so my fellow V.V.I.P, where shall we head to next?
Read my full review, Day 01, Day 02. If you wanna know more about my fellow V.V.I.P's, click here.

I used to have a dog. I used to think having a dog would be good. No one will bully me. If they do, I'll ask my dog to bite them! Really, that's what that cross my mind at that point of time. Why I think so? My neighbour have this huge dog that scares me most of the time. I remember my parents went a take 2 stray puppies back home. Since I want my dog to go bite someone else, a macho name is important. Hence, the name Stoney was given to him. Actually my mum came up with the name. I wonder why~ I am afraid of dogs but I could still remember playing with them, running around while looking at how the get tanggled in their white cloth. As they grew older and bigger, I never did play with Stoney. Why? Coz I scared he will bite me before he even bite anyone else. Stoney is a smart dog, I would say he is way too smart to handle. He doesn't eat any food my mum cook, so he is thin enough to slide thru the gate, go out and play in the middle of the night… go pee and shit at my neighbour's house. Not to mention, Stoney bite their shoes. Things went really out of control as he does it like every night. Hence, my parents decided to send Stoney away.

I could still remember the fact that I finally have my own domain name. I hesitated for a long while. Should I, Should I not? Getting a personal domain just to host my own blog is a little waste of money. That is what everyone tells me. They all say blogspot or xanga can host blog… and best of all, it's FREE. No offence to anyone, but I felt there are too much restrictions. No to mention it's really hard for me to place in my own design and potray it out. Hence, on 19th June 2005… http://www.velverse.com was born. I finally could blog and place anything, anywhere I like! Thank god!

Ah… my camera. Finally I have my own camera :). Well, it's suppose to be a happy thing isn't it… not to mention it was a gift. But well, I weren't exactly that happy tho. It's actually a farewell gift I got from my previous boss. I was shocked at the first place when presented with the gift. I went speechless… totally speechless. The gift and the things being said to me by my boss… sigh, I really wanna cry~ Yeah… I will always remember that moment 🙂

Yes, for the very first time, I really felt this is really a hard TAG to do. It takes up 2 days for me to think of what to write. What to disclose what not too. No kidding… well, many of the stuffs are rather secretive, even my immediate family members didn't know… many, not even a single soul in the world know. So, I hereby conclude my 10 most unforgettable moments.
Okay… I'm done, this is hard. I doubt I am in the mood to tag anyone. My brain can't really function well now… now that I finish this so hard to do TAG. Okay cuz… dun say I no sayang you! See… I squeeze my brain cells just to finish this up!