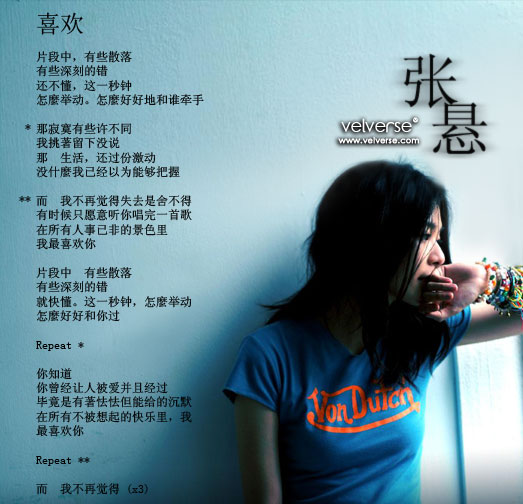 I recently  fell in love with this girl's husky voice, and find it quite sexy and attractive.
This song 喜歡 (Like) by 張懸 (Zhang Xuan) was promoted quite a long recently by the radio stations.
I heard this song many times while driving 🚗 home after work at late night 🌃.
It's really a nice feel, driving on the quiet highway and listening to this song.
It makes driving back home on a tired day less painful.
According to the DJ, Zhang Xuan is a new artist.
Ah, think I have fallen in love with this song.
I now secretly wished I have a voice like hers.
And while I was finding a picture to prepare the montage, found this picture of hers which I really like.
Yes, the one with her wearing a bunch of bracelets looking out the window.
Seems to have a similar style that I like too.
Really love the bracelets, make me want to steal some of her colourful bracelets 😊.
Pin Yin translation available at comment section