Haha… I guess Oswald is the lucky one after all. This is the first time I celebrated my colleague's birthday since I join my new office. So yeah, he is the youngest member. Ah… our little boy have finally grown older.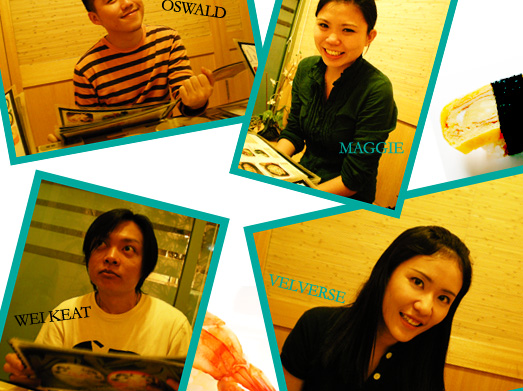 So yes, the member of the creative department decided to go for some "makan" celebration. Yeah, good food… that is something that bonds everyone of us together. We decided to go to Umai-ya Restaurant which happens to be located very near to our office. Yeap… a great Japanese restaurant with nice ambience (although I find the chandeliar light in the middle a little odd compare to the rest of the deco).
But the best part… it's like only 2 minutes walk from the office. So yes, I am determined to try all their dishes. Every single one of them… hemmm.. I guess by now I would have cover 30% of what they have to offer.
Our group totally love sashimi. I mean…it's really a simple dish. All you need to do is serve fresh fish and nothing could go wrong. Er… okay, I think wasabi plays an important part too. So we ordered this Sake and Hamachi Sashimi to warm things up. Totally thumbs up! The fish is fresh, it's nicely sliced. Not to mention the food presentation is awesome!
After the first round, we totally got addicted to fresh fish and decided that we want more! Yes, more… more and more. This time around, it's all about salmon. We all have one thing in common… we all love salmon! We ordered more Sake Sashimi and Sake Maki to fulfill our salmon cravings. Oh yeah… the salmon seems to just melt in my mouth~ HEAVENLY!
Yummie… we even had Deep Fried Soft Shell Crab. I must say, it's really a huge crab.. deep fried till golden brown. Oh, it's so crispy. See… my cravings for crabs hasn't exactly been cured~
Tempura… tempura!! In my point of view, I benchmark a Japanese Restaurant by their tempura. Well… a tempura seems like an easy dish to prepare… but I would say, many shops failed to impress. The mixture of the batter is simply important to get the crunch yet light feel. Most importantly… it shouldn't be very oily. I must say, the Ebi Tempura is cool! It's really crunchy while maintaining the freshness and the juiciness of the prawn. Oooo… I particularly love this dish!
We ordered this Unagi Tamago to share around. As someone who loves Unagi to the max, I somehow didn't exactly enjoy this dish. It's my first attempt to try this… but I somehow felt the Unagi taste was drowned in this dish. I could hardly taste the Unagi taste. Hemm.. I think I should try this dish from other restaurant to tell if it's me or the dish.
We also ordered the Teppan Seafood. The teppan seafood have prawns, salmon fish slices and octopus served on a hot plate. The dish is topped with some thousand island like sauce mixed with some chili flake sauce. Like I say before, the seafood is lovely… but I find the sauce a little too strong and it seems to over the seafood taste. Not to mention… I really felt it didn't go along well with the seafood. I can't tell why exactly… it just felt like it doesn't compliment.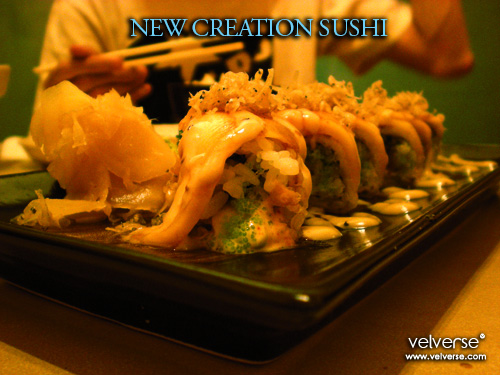 I have no idea what's the name of this dish. When the waitress came in and took our order, she asked if we would like to try their chef's new creation sushi. She listed a few… but this particular one with mango seems to sound interesting. Fruits… sushi… okay.. now that interest us and we decided to go for that. The presentation of the food is simply beautiful and colourful. They actually use thin mango flesh to wrap around the sushi topped with some kind of "ikan bilis". In the middle… one can find overload of wasabi flavoured ebiko and if I'm not mistaken… it's some soft shell crab.. Lovely. I don't normally  like sweet and salty food mixed together. But this one just tasted so good. Everything just gets along so well together. Stunning yet taste-blowing dish.
Address:
Umai-ya Japanese Restaurant
G-3A, The Place,
Jalan PJU 8/5D,
Bandar Damansara Perdana,
Petaling Jaya
Telephone: 03. 7729 0015
Website:http://www.umai-ya.com/