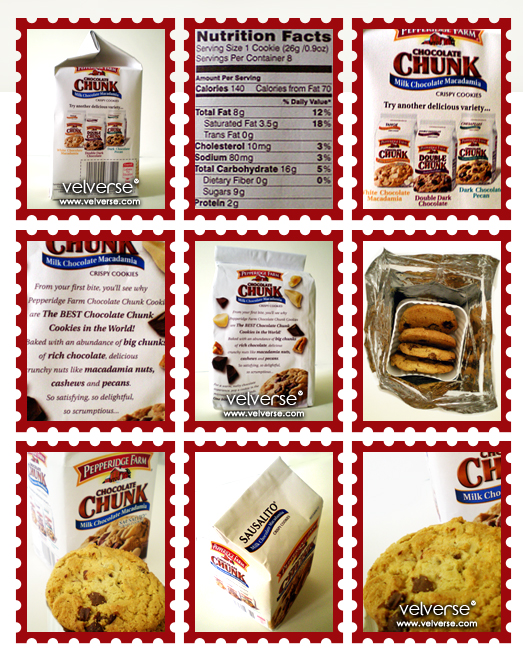 Taste Review:

Packaging Review:

Place of Purchase: Isetan, KLCC
Price: RM9.90
I love cookies! It's kinda sad that I can never master baking. It seems so difficult and need lots of time to prepare it. Not to mention the cleaning process after the baking. Hence, purchasing it off shelf seems the easiest way. When I went shopping for my normal "stock up" routine, I suddenly saw this clean white paperbag like packaging on the shelf.
Unlike others who tries too hard to just wow you with their vibrant and striking packaging colour, the Pepperidge Farm packaging seems to distinguish itself by just looking clean and neat. Yes, I really love the whiteness of the packaging. Pepperidge Farm seriously comes out with many variety of cookies. So I have been standing there for quite some time, when I finally decided to pick the Pepperidge Farm: Chocolate Chunk Cookies – Milk Chocolate Macadamia (read about their ingrediants and nutrition information here).
I personally love the neat design. A big and prominent logo as branding, product name and just one big product picture that says it all. The yummy visual, classy font type. Woo la la… elegant! But what I am really impressed is, their product shot and their actual product don't really look that different. Unlike many, the product shot look so big and yummie but the actual product is not even 1/2 of what being shown.
There are 8 pieces of cookie in each packet, 4 pieces in each tray. I must say, each piece of cookie have generous amount of chunky chocolate. Unlike normal chocolate biscuit, the chocolate chunks is soft and melts instantly as you bite them. Mixed together with the roasted macadamia nut chunks, it's totally perfect.
The aroma of the roasted macadamia… makes it really irresistable. The cookie itself is a little soft. Some might not like the texture of it, but I personally felt it is cool. When you eat the cookie as a whole, you can feel the different texture. The crunchy macadamia nut, soft cookie and melting chocolate. You figure that out yourself.