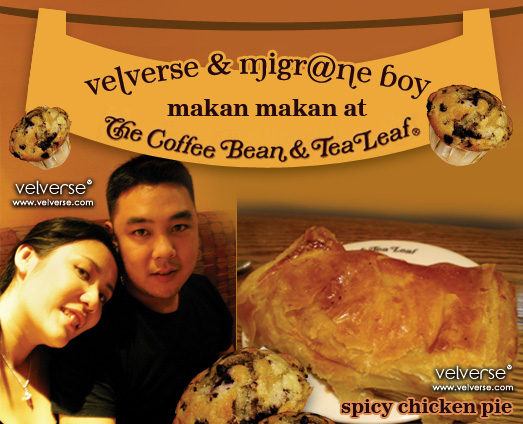 When I was younger, I used to wonder why people are willing to drive up to Genting just for a drink, that you could get in KL as well. I used to think that restaurants and cafes in Genting are just for tourist.
But as I grew up, I finally realize it is not for the food per se. It's really more for the cold breeze, the windy feel and the feeling of holding a hot drink in such cold weather. It's just pure love.
The most notable coffee joint, none other than Coffee Bean or Starbucks as they both occupy the best spots with outdoor seats. This time round, we decided on Coffee Bean and ordered  Hot Chocolate cause we try to avoid overload of coffee especially at night cause I tend to get head and heart aches when I have too much coffee.
We also ordered something to bite. Deon decided to go for something savoury – Spicy Chicken Pie.
I like it, cause it is creamy and rich with caramelized onions and potatoes.
Yup, loads of onions and potatoes. And it's rich creamy sauce goes so well with the flaky pie crust.
Love how it's not heavy and ideal for supper.
I am a sweet tooth person and immediately aimed for their muffins.
The toughest decision is to pick only one muffin  out of their many choices.
As usual, it took me a while as each one seems to be screaming "Pick me, pick me, pick me up!".
I go for a safer option this time, deciding on my old faithful Blueberry Muffin.
I'm always impressed with their muffins. It is so much softer than its outer looks.
And I like how it is really filled with lots of blueberry.
OK, time to go and 😴 all the way back to my home sweet home.