Wow, this year I get a lot of Christmas presents. Hehe… yeah, I was shocked. Normally the Christmas presents I got are all from the "Christmas exchange gift". This year I got present from my leng leng lpc (Eunice), Brian and Gigi. Hehe…. *muacks*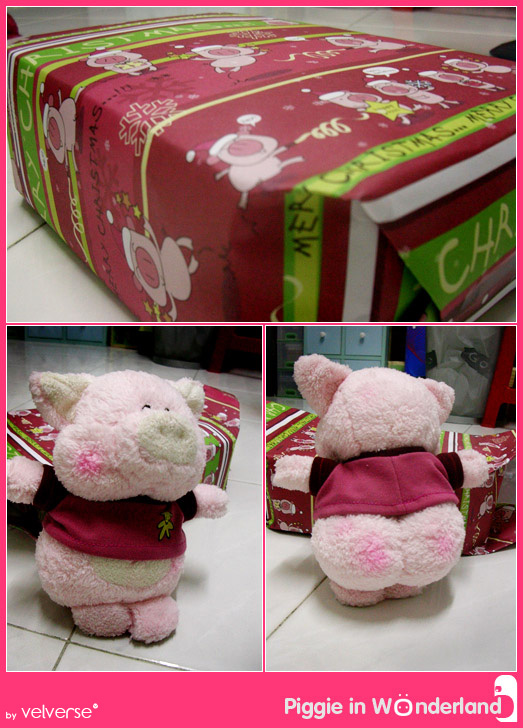 Hehe…. It's so cute, I knew Gigi love pigs hence I bought a piggie wrapper to wrap her x'mas present. Eunice on the other hand bought the same wrapper to wrap my x'mas pressie coz she knows I love pigs. Hehe… such coincidence eh? Hehe.. I love the dollie Eunice gave me. It's a cute piggie in bright pink baby tee. Hehe… the pig have cute red blush butt
. Hahaha… *huggies lpc.* Thanks for the cute cute piggie. I'm gonna hug it to sleep… erm actually more likey "jak pin" the piggie.
Eh.. Brian got me this cool "Mr.P mobile strap". Hehe… it looks seriously cute man
. This little guy with his tiny manhood standing up. I don't really use a mobile strap and that is one of Brian's concern too. He worried I didn't like the gift coz it's not practically. Yes, it's true I don't use a mobile strap but hey, I'm a creative person. I modified this mobile strap to a keychain. Haha… I am a genius eh? Yes I am
. I am just looking for a keychain and *walla* detach Mr. P from the strap and hook it to the key ring. *ta da* A new product is born. "Mr. P keychain". Thanks a lot ar Brian. Loved the gift so much. P/s – I'll try hard to be as well verse as possible.
Gigi… this cunning little girl.. Haha… she called me a day beforehand to test water
. She totally caught me unaware. I was busy helping out in Eunice's party when she called and well, I felt something funny about her questions but I didn't put much thought to it coz I was busy. She called me and asked "Ah man ar, the character for Corpse Bride cute a not ar? I want to buy the DVD ler." I felt funny coz I remember she saw the movie with her friends before I even saw it and she is asking me is the character's cute? I was too busy to think further so I just answer her "Yeah, quite cute gah." She then just say "Okay lah, I am in Sg. Wang now and I will buy the DVD now." I just oh and hang up.
Geez… I was overwhelmed, surprise, speechless and stunt for 5 seconds when I unwrapped the gift she gave me. A set of Corpse Bride toys. Oh… how sweet. *super big muackies* for the cheeky girl.
Thanks everyone for their sweet gifts. Hehe… I also gotta thank Maggie and Stella for sending me cute cute Christmas cards and wishes. Well… also must thanks everyone who wished me in person, SMS, emails, chats and etc. At least I know my name does pass by your mind during Christmas times. Really appreciate it.
p/s – Ah… I finally finish covering christmas. NEW YEAR~ here I come!