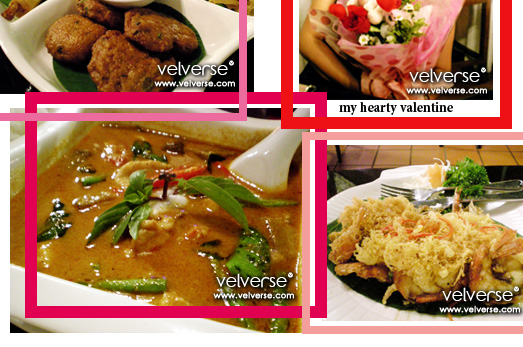 Weee… Valentine's Day, some people think it's over rated. Yes, I think it is over rated. I mean… I like the fact that someone who created it gives everyone a chance to couples to celebrate and all… you know.. treat your other half a little better than usual. I know it is not like you can't do it every other day… and phrases like… if you love someone you can show it every other day. But well… yeah, I hate the fact that it is over rated in the sense that… eating out is particularly expensive (if you are thinking of steak and wine). Not to mention flowers are super duper expensive.  So yes… wee…. me and my dear's first valentine together was the proper… flower and dining thing. Only we ate thai. Hehe.. come to think of it… most of our special occassions, we celebrate at some thai restaurants :). Can't help it, thai food is great!
This year, hehe… my baby cook dinner for me. Awwww… it is really sweet of him, considering he is not the cooking type. Hehe… it's just a simple Spaghetti Cabonara with Campbell Chicken Soup and Sparkling Juice… but it is good enough to make me happy.
Hehe… this year… I got this super duper big pressie. Guess what~ TOYS!!!! My favourite~ Hehehe… and I just couldn't believe it. My dear got me this Grab-It Machine that I drool and dream of having for the longest time. Hahaha… I mean… yeay, now I can practice grabbing toys at home.
How sweet of my dear to even include in the cute little phone dangglers as toys for me to grab. I think, the next time I shall put in sweets and candies 🙂