One mysterious weekend, my sister dated me for dinner. Well according to her, she have something she wanted to tell me. Then again, to date… she hasn't tell me anything.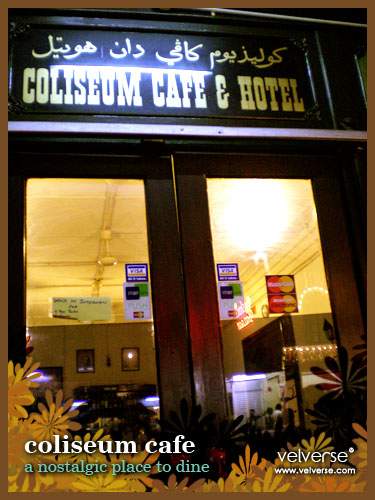 My sister's bf, Jason suggested we go Coliseum Cafe since me and him mum are first-timers to the place. Apparently the place was there for around 80 years. Amazing! 80 years and I have never heard of it before. Not to mention dine there.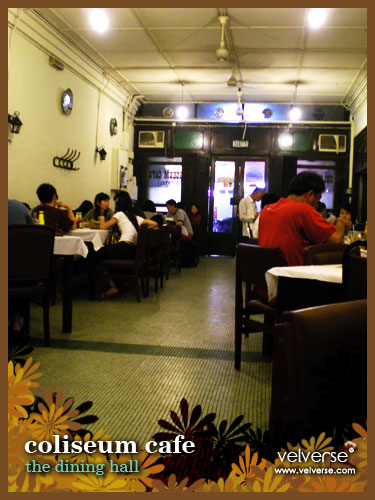 As we entered the cafe section, it really brings me back to my good old days. I can really say this place really have a lot of history value in it. From the deco to the settings. Seriously, I wonder why someone would want to tear down this place in the first place.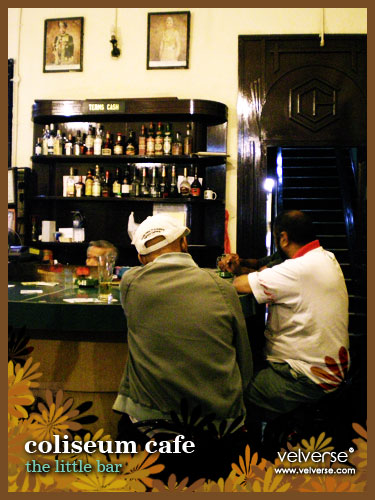 On the other side the dining area was the bar. Even the bar is really nostalgic. Hemm… I think someday, someone should make a movie at this place.
There are tables old fashionied sofas for people to chit chat while having a drink
Even our famous comic artist LAT comes down here often. Yup, he drew a few comic strip for this place and it was nicely framed and hanged on the wall. Seriously, it's been quite an attraction here.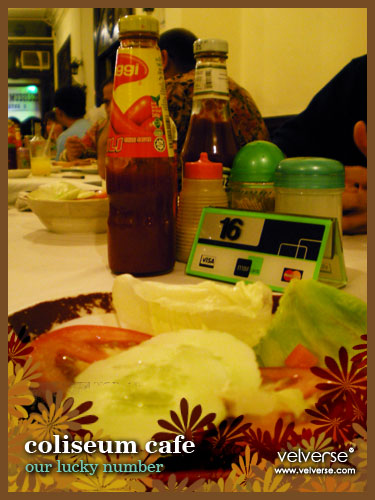 After running around and taking pictures, I went back to our table and started to order my dinner. Well, the place was rather packed. Well, the ambience is quite enough to cover the waiting part. It took quite a while for someone to get our order. Everything else after that was pretty alright.
It seems like this place is rather famous for it's Sizzling stuff. No worries, they do provide you this little white apron to avoid you from staining your precious top. Awww… we get to be big babies!
Jason's mum ordered the Grilled New Zealand Lamb Chop (RM20.90). I think the portion was quite huge. Woo la la… meaty with loads of mixed vege. I am really glad they didn't exactly overcook the lamb.
Supposedly, we get to choose from black pepper sauce, mushroom sauce, garlic sauce or brown sauce for most of the western dishes. But… then I somehow think no longer have black pepper/mushroom/garlic sauce. Hence… brown sauce seems to be their standard sauce. So, don't bother go chasing after the waiters and tell them what sauce you want.
I ordered the Sizzling Steaklets In Fried Onion (RM35.90). Well, initially I orded this dish coz I love the Fried Onion smell… but looking at how it turned out, I was rather disappointed. First of all… it doesn't have any Fried Onion on it… and the steaklets have no onion taste to it.
When we asked the waiter… he told us, there is no fried onion coz they are not using garlic sauce. Which makes me wonder… what is the relation between GARLIC sauce and fried ONION. Then again, that is not the point. The point is, he should tell me… there will be NO FRIED ONIONS on my sizzling steaklets in fried onion if I don't choose GARLIC sauce.
So yes… back to how it taste like… well, it seriously tasted like a normal steak. It's not bad… but there's nothing to shout about here.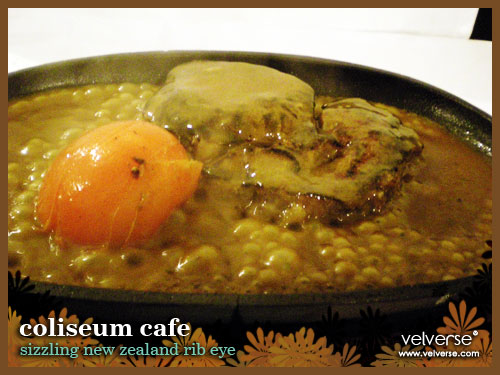 Jason ordered the Sizzling New Zealand Rib Eye (RM35.90). Hemm… I didn't actually try it but it should really taste the same, except for the meat texture part. Standard sauce, both cooked on a hot plate garnished with tomatoes. Hemmm… you tell me~
My sister seems to enjoy her Sizzling New Zealand Lamb Chop (RM30.90). Yeah, looking at her portion… the food on her plate do seems more tempting and delicious. I guess it would taste better if they pass me some mint sauce.
Oh yeah, their side dish comes in a rather cute plate. The plate is devided into 2 sections. One side for wedges, the other part would be veges cooked in some cream sauce. The portion of the side dished served in the middle of the table are for 3 person. So yes, burp… I wanna rub my tummy now.
We supposedly ordered Inche Kabin (RM15.90) for starters. But to my surprise, this dish appear only after I finish my main course. Inche Kabin is actually Hainanese Fried Chicken. I think this dish is rather standard. Nothing much to impress. Inche Kabin is served with this plate of sauce with some raw onion slices in it.
The sauce taste like Lea Perrins sauce with some onion taste to it. Hemm.. so yes, at least I get to have some onions… just it seems to appear on a different dish.
How can we leave the place without trying any dessert. Yup, we were all rather full so we just ordered one thing to share. I didn't exactly remember what it was called… but it sounded something like Chocolate & Banana Spring Roll with Ice Cream (RM7.90).
It was rather funny… my steaklets in fried onion have no fried onion. The chocolate & banana spring roll have banana but no chocolate. Instead we all tasted strong caramel taste. I guessed it wasn't served with chocolate ice cream, so they don't have chocolate taste.
Address:
Coliseum Cafe & Hotel
98-100, Jalan Tunku Abdul Rahman,
50100 Kuala Lumpur.
Telephone No: 03. 2692 6270
Business Hours:
Monday to Friday – 10.00am to 10.00pm
Saturday to Sunday / Public Holidays – 9.00am to 10.00pm