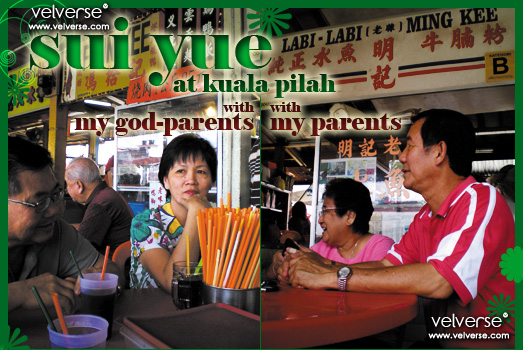 One weekened, when I decided to go back visit my parents and my god parents who came down all the way from Singapore… and they suggested that they wanted to go Kuala Pilah to eat "sui yue" (softshell turtle). I was like… er… ermmm… eh… but ended up going.
My god parents were from Kuala Pilah, yup… the same hometown with my dear. So my dear lead the way to the "sui yue" place. I never actually tasted that… and my imagination of the dish is seriously disgusting. I picture they would chop the turtle into pieces… and put it back together in shape and served is medium well with still blood.
I was relieved to know/see that it actually looks like a bowl of bak kut teh. I dare not order because I worry I didn't like it. So I stole a piece from my dad. It tasted like chicken… of course the meat is a little more tender, but I couldn't control my mind. It keeps picturing me the bloodly looking turtle. So after I piece, I gave up.
My dad saw this erm.. shop next to the "sui yue" shop which sells a lot of animals inner organs. Hence, he ordered  this dish that serves pig's intestines… ears… stomach and some duck thing. Okay.. I seriously don't mind the pig's intestines/stomach but my acceptance for so much internal organs is limited.
As for my dear, he settled with his mee rebus as he doesn't take "sui yue" or any animal's internal organs. What about me? I ordered a nasi lemak at last as my mind is playing tricks with me. Seriously, food taste good… if only I could control my mind… I could probably join FEAR FACTOR~