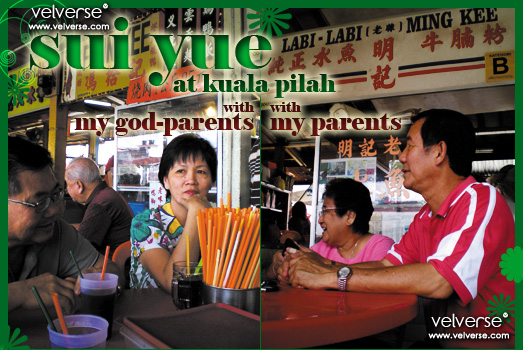 It was one of the weekend trip back to hometown to visit my parents.
This week is a little special, since my god parents from Singapore are in town. So am killing two birds with one stone.
They all decided on a day trip to Kuala Pilah to eat a popular Chinese delicacy, "shui yu tong" (水魚湯) aka softshell turtle soup. 😨 while I am not a fan, I still go with them cause it5's just a short weekend and wanted to spend time with them.
My god parent's are actually from Kuala Pilah.
Such a coincidence! The same with Deon.
So he leads the way to the popular place to have the softshell turtle soup.
I have never tasted or seen how the softshell turtle soup is before.
In my imagination, it would be greenish, probably able to see the body parts in specific like the legs.
Disgusting?  I can't help it. My mind kept flashing me with visuals of people chopping the  turtle into pieces, piecing them back together, steamed with herbs or so.
When the dish arrived, I was relived to see that it was not as what I thought it would look like.
In fact, if it is not because we only ordered 1 soupy dish, I would mistaken the softshell turtle soup for a bowl of Bak Kut Teh. It looks and smells like one.
I didn't order it cause I worry I may not like it.
So I stole a sip and a piece of meat from my dad.
I'm not too sure how to best describe it, except to say it taste like chicken.
Except the meat is more tender and soft and the soup is really quite similar to herbal soup.
While the taste is alright, my mind kept playing tricks with me.
Hence I gave up after that 1 piece.
Dad spotted this shop next to the softshell turtle soup stall, which sells lots of stewed meat and animal's inner organs.
He ordered a mix platter of pig's intestines, stomach and ears.
He also can't help but to order a popular Cantonese roast meat delicacy that he liked – Duck Leg Wrap (鸭脚包).
Accordingly to him, it has become quite rare to find a place that make this dish well.
Plus, not many people knows how to make it anymore.
This dish is made with duck leg, char siew (roasted pork), duck liver, bound together with duck intestines and roasted.
As for Deon, he settled with a bowl of Mee Rebus as he doesn't take any of what we ordered.
I also ordered a plate of nasi lemak. Yes, I needed to make sure I am fool.
Seriously, the softshell turtle soup taste good. Much better than what I imagined.
If only I could control my mind and my fear. I could probably join FEAR FACTOR.