I couldn't care less what hrs
I couldn't remember what time it was anymore. I was too excited to snap pictures of what dad has won for me! Hahaha… I never know he is such a pro until I see the amounts of stuff I'm carrying home. Lots of people were looking. I am happy! I got lots of stuff.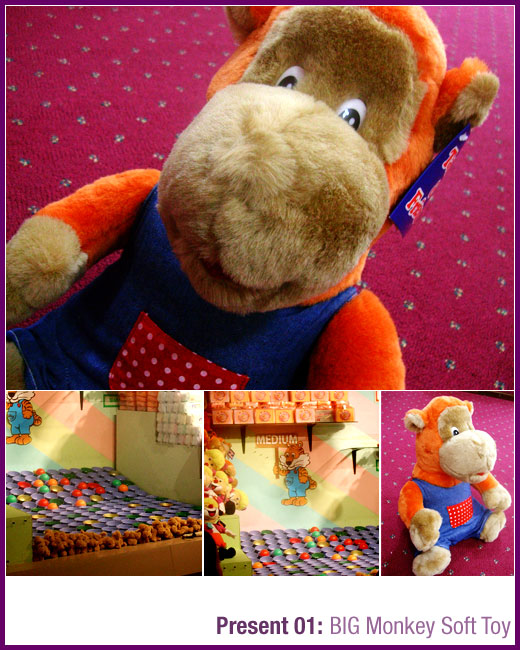 Dad got me this BIG Monkey soft toy. Haha… my dad is really in shape that night I guess. Hahaa.. his first throw landed him on the red bowl. And yeay! I got this BIG toy. Gold bowl for medium size toy and green for small size toy. Haha… My dad is lucky isn't he?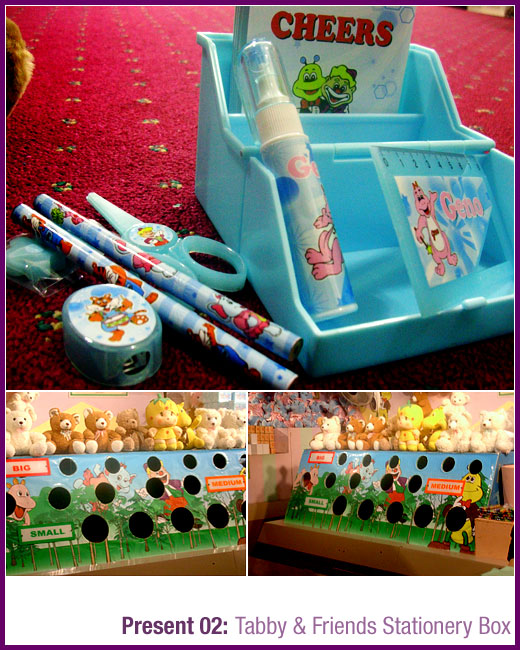 Dad strike again! Hahaha… It's just his day. Well.. eventually dad tries to get me another big dolly. But well it seems just so difficult. The hole is exectly the size of the ball. Hemmm…. Not FAIR! I like the yellow dolly~ But then again… I am not a greedy person. Hahaha… I will settle with a Medium toy. Yeah… Ermm as a matter of fact… the Medium prize is actually not a toy.. It's this Stationery Box. Well, If I am back in my primary school days, I guess it will be a good use. Mum already advance booking to give it to my little cousins. Hahaha.. so okay… I am suppose to get the toy and now mum says wanna give to little cousins.

Oopsss… dad did it again! Hahaha… Yeay… Dad got me this nicely packaged face towel. Hemmm… The colour of the towel seems interesting. Doubt I will use it. But well I really like the packaging. Dad is really the masta when it comes to this kinda ball games. If I were to play… I can ensure you I will go home empty handed.
Thanks dad! I love the presents! Wooohooo….. Be prepared. Dad will come and win more prizes next time!