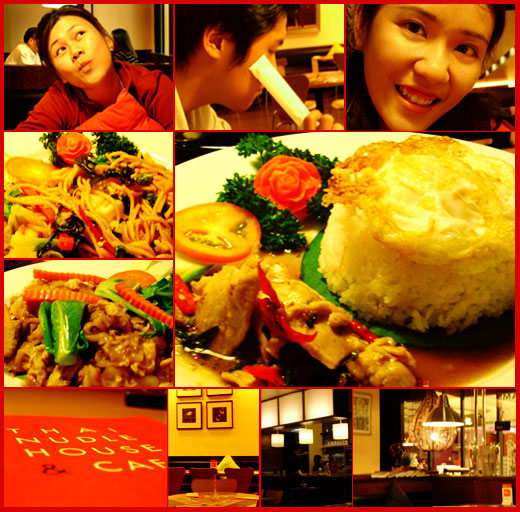 1. Gigi    2. Loh    3. Mandy (me)    4. Stir-fried Spaghetti with Hot Basil Leaves and Seafood    5. Stir-fried Keow Teoy with Beef     6. Stir-fried Chicken with Hot Basil Leaves and served with Steam Rice & Sunny Side-up     7. Menu     8, 9, 10. Restaurant Ambience 
Hemm…. It's my turn to think of what to eat. I didn't really like thinking what to eat. Yeah ever since I had this bad experience. People will go like…
A: You think of what to eat lah…
Me: Hah… me ah? You think lah I anything also eat.
A: You think lah.. I also what also eat lar.
Me: Mmmm… okay lah… let's go "xxx"
A: Hah… mmm dowan lar.. there food not nice
Me: Hah… mmm okay lar… let's go "yyy" then
A: Service there very slow wor…
Me: Then eat "zzz" lah.
A: I just ate "zzz" yesterday.
Like this better they think right? I just hate it when people waste my brain space and my precious time. Don't say you will eat anything when you have so much things that you are not okay with. Say it when you really mean it.
Okay skip that. Well.. okay I suggested another restaurant but well.. ended up at this Thai restaurant called Siam Square. Hahaha… can't help it.. too long never eat thai food. Food was okay. I tasted rather same like the ermm Rain Noodle House chains of restaurant. But well.. at least we did try different different restaurants.